Si Vous avez au moins la moindre des questions sur aucun des médicaments, Vous serez en mesure de poser les nous sur le site ou sur la page Facebook acheter doxycycline sans ordonnance Et en achetant des médicaments, Vous recevrez la livraison à la même adresse, qui choisissent eux-mêmes et que vous spécifiez lors de l'achat.

02.1.2012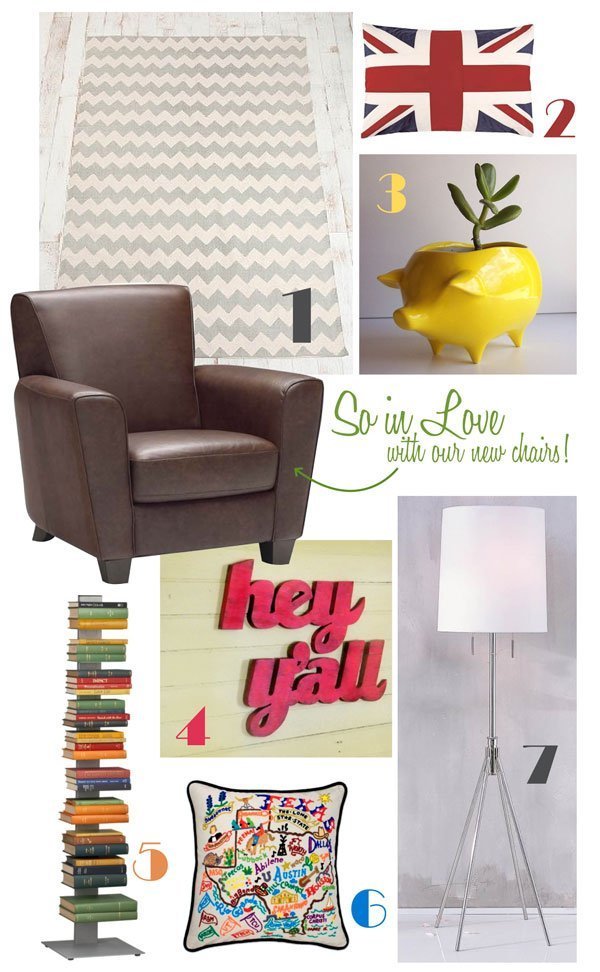 Well hello there! Its been a while since I stopped by, no? What can I say...
"Life, blah, blah, blah..." No sense recapping where I've been, lets get on to the goodies, shall we?
So, a few weeks back, the hubs and I invested in 2 gorgeous Natuzzi leather recliners for his little boy video game playroom our gameroom area. Its on the large landing as you come up the stairs, and is the perfect spot to hang out and play Xbox and Wii. And now that we've started decortaing that area, I have a few fun things in mind to spruce it up, while keeping it bright, fun & a little silly.
(Now all I need is a Kinect & Dance Central. Dance party at our house!)
1. Gray Chevron Rug ($79) via Urban Outfitters
2. Union Jack Pillow Cover ($30) via Jack Wills
3. Yellow Pig Planter ($30) via fruitflypie on etsy
4. Hey Y'all Wall Sign ($50) via Slippin Southern on etsy
5. Array Silver Bookcase ($189) via CB2
(How fun would this be to hold games and movies?)
6. Texas Embriodered State Pillow ($150) via Disticntive Decor
7. Adjustable Metal Floor Lamp ($119) via West Elm
P.S. We got a GREAT deal on the recliners- no way I would pay $1500 PER CHAIR! Yikes!
XO
-L

Lauren
|

Post a Comment
|
tagged

Decorating
in

Home