Si Vous avez au moins la moindre des questions sur aucun des médicaments, Vous serez en mesure de poser les nous sur le site ou sur la page Facebook acheter flagyl sans ordonnance Et en achetant des médicaments, Vous recevrez la livraison à la même adresse, qui choisissent eux-mêmes et que vous spécifiez lors de l'achat.

05.28.2010
Happy Friday! I'm so glad summer-and memorial weekend- is here! Its time for a long weekend spent with family and friends and my super cute fiance. YAY! We are headed to Big Ol' Lubbock, TX to spend time with my fave people. I can't wait for cookouts, pedicures, and time at the pool. I will be back on Tuesday with more bloggy goodness. Until then, I leave you with a fantabulous recipe that we had for dinner last night (the grilling madness continues!)
Enjoy and have a happy Memorial weekend!
XO
-L
PS- Don't forget to thank a veteran or service member of the military- this weekend is for us to remember their sacrifice and service. A special WOOT to Dustin Trammel (Laine's hubby) and Randall Markham (Laine's little brother)- My 2 fave military men! Thank you for all you guys do!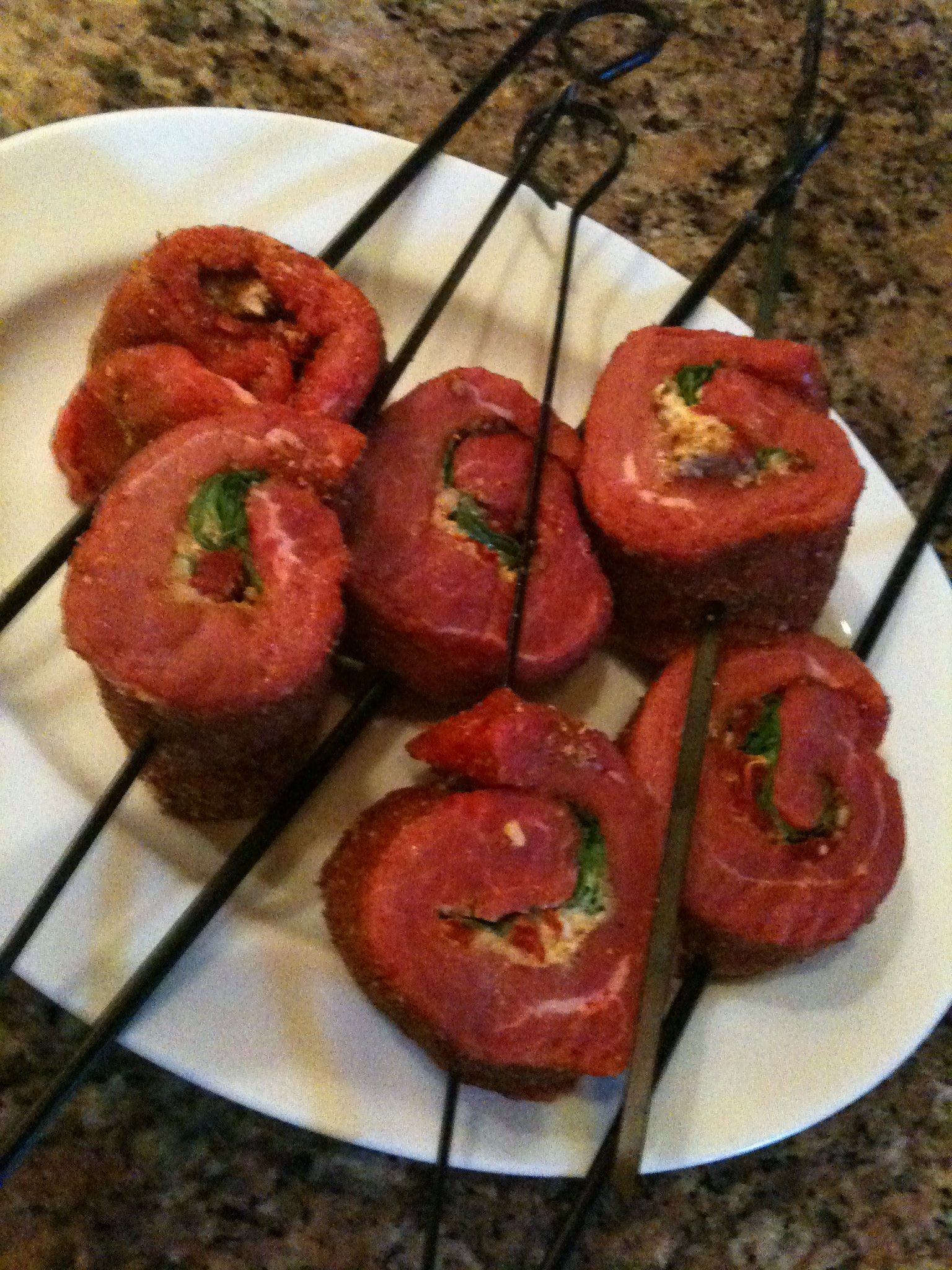 Meaty little yummies before going on the grill!
FLANK STEAK PINWHEELS
(Recipe via Eatingwell.com)
INGREDIENTS
2/3 cup sun-dried tomatoes (not in oil, package should say ready to eat...)
1 pound flank steak, trimmed of fat
1 clove garlic, minced
3 tablespoons light herbed cheese spread (we used a wedge of Laughing Cow Garlic Cheese)
1 cup baby spinach
Steak Seasoning (we Love Swamp Venom from The Dizzy Pig-YUM!)
PREPARATION
Preheat grill to high.
Meanwhile, place steak between 2 large pieces of plastic wrap. Pound each side of the steak thoroughly with the pointed side of a meat mallet until the steak is an even 1/4-inch thickness.
Season the steak liberally (on both sides) with the Swamp Venom (or steak seasoning.)
Rub garlic all over one side of the steak. Spread cheese lengthwise in a 3-inch-wide strip down the middle of the steak. Top with the sun-dried tomatoes and spinach. Starting at one edge of a long side, roll the steak up tightly, tucking in the filling as you go. Turn the roll so the overlapping edge is on top. Push 8 skewers, evenly spaced, through the roll, close to the overlapping edge to hold the roll together. Slice the roll into 8 equal portions, roughly 1 to 1 1/2 inches thick, with a skewer in each. Lay the slices on their sides and push the skewer through so it sticks out about 1 inch.
Oil the grill rack (with PAM for grilling.) Grill the pinwheels 3 to 4 minutes per side for medium-rare. Use a spatula when turning them to prevent too much filling from falling out. (Don't worry if the ends of the skewers burn. They will still hold the pinwheels together.) Remove the skewers; let the pinwheels rest for 5 minutes before serving.
We served with Sweet potatoes and sauteed spinach- healthy and yummy!

Lauren
|

5 Comments
|
tagged

Lovin from the Oven,

Things I Heart
in

Life,

Recipes